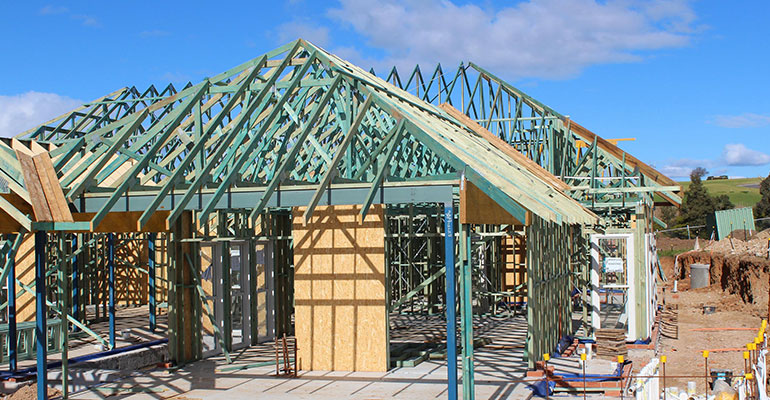 Prefab Trusses and Wall Frames
Construct your new home in the most logical way with prefabricated frames from Hitech Trusses & Wallframes. Our prefab frames and trusses are factory built according to your drawings using the latest software and fasteners available. We then deliver to your site ready for installation, eliminating "stick building" on site – so there's no need to worry about inclement weather or having the right amount of timber or fixings on site. Let Hitech Trusses take the stress off your shoulders and supply you with high-quality walls that are superiorly designed, engineered and built.
Experienced Frame and Truss Manufacturers
The strength of a structure depends on the quality of its frames, posi struts and trusses. To guarantee your residential or commercial property is built for strength and durability, we boast the necessary experience and skills to custom design and manufacture top quality prefab trusses, posis and frames for all kinds of commercial and residential buildings.
If you work in building and construction in Melbourne and need a quality source of prefab frames and trusses, you can trust Hitech Trusses to accommodate your needs on time and at affordable prices. We ensure all deliveries are made as promised so that your construction timeline does not get disturbed due to delayed orders or defective deliveries.
Why Choose Prefab Trusses and Frames?
In the process of designing and building a new home in Melbourne? Order prefab frames and trusses from Hitech Trusses and significantly cut construction time so you can move in quicker!
At Hitech Trusses, we don't wait until foundation work at the construction site is completed before the walls are constructed. We have already started! We then deliver them to the site, where they can be lifted with cranes and secured into place on the already completed foundation. This allows you to complete all tasks related to construction simultaneously and deliver homes and commercial buildings to your clients in shorter durations.
Not only do you get to save time and $$$, since the prefab frames are being manufactured at our site, but you can also rest assured that poor weather conditions will not become a hurdle, as construction can go on regardless of the weather conditions. In addition to providing prefab walls to our clients in Melbourne, we can also provide prefab trusses, posi struts and structural steelwork.
Make sure you make the smart choice – place your order for prefab frames and trusses with Hitech Trusses today!